When the staff at Forgotten Dogs Rescue pulled Rambo from the shelter and placed him in foster care, they had no idea how much the Pittie group would love the feeling of freedom.
It was raining outside, but that didn't stop him. After 175 days, Rambo finally got out of the shelter, happy to start running and dancing in the rain.
"When his adoptive mother sent me the video, I was in tears of joy," Julie Saraceno, a volunteer at the shelter, told The Dodo. "It was his second day in foster care and the absolute joy and freedom in his eyes were amazing."
Rambo couldn't believe his eyes as he walked from a small concrete kennel to a large grassy yard.
You can check out that moment here:
This puppy with beautiful big eyes shows an exuberant temperament. He loves other dogs and cats, and while he's certainly full of energy, he's also always willing to snuggle up on the couch.
"He's the most lovable person for what he thinks of his crew," Salancheno said.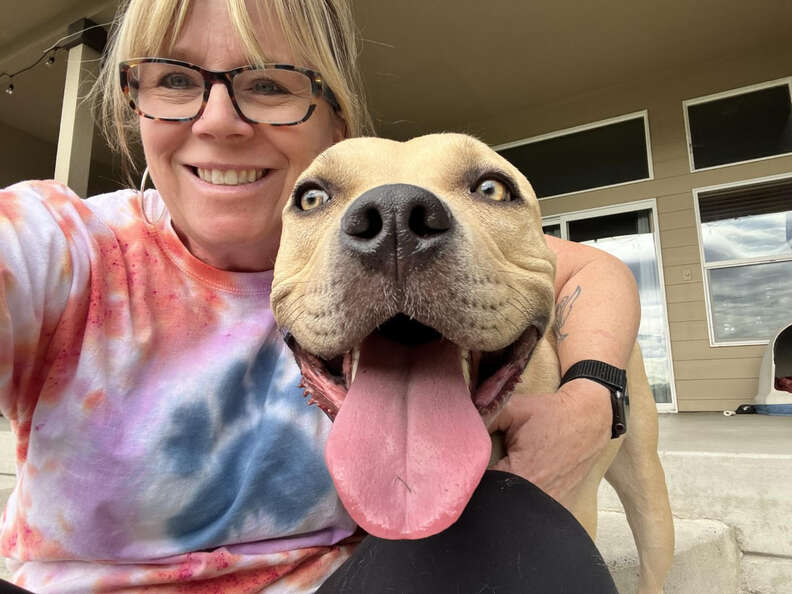 Rambo, who was originally spotted wandering the streets of Kennewick, Washington, is a homeless man who strives every day to become more confident and less fearful. Working with a coach, he learned obedience, how to meet strangers, and many other skills that made him a good kid.
Once Rambo finishes his training, he'll be ready for a potential fit in his forever home, ideally a place with room to exercise all his energy.
Soon, Rambo won't have to take every opportunity to go out. He will have a yard – and a home – all his own.
If you're interested in adopting Rambo, you can check his status on the Forgotten Dogs Rescue website. To help other dogs like Rambo, you can donate to Forgotten Dogs Rescue here..